Hanger Details
Eaves Hanger Struts
Side rail systems are normally supported on their weak axis by the inclusion of diagonal tie wires. Occasionally it is possible to hang side rails from the bottom flange of the eaves beam, therefore removing the necessity for the wires. For this reason a stiffening cleat is incoperated in the Eaves Brace Set. When an eaves beam is used to support the side rail system, it becomes an essential part of the wall system, and therefore will require fire protection in a fire boundary situtation.
Typically the hanger strut is used where there is only one number side rail below the eaves beam, and it is not possible to incorperate the diagonal tie wire system.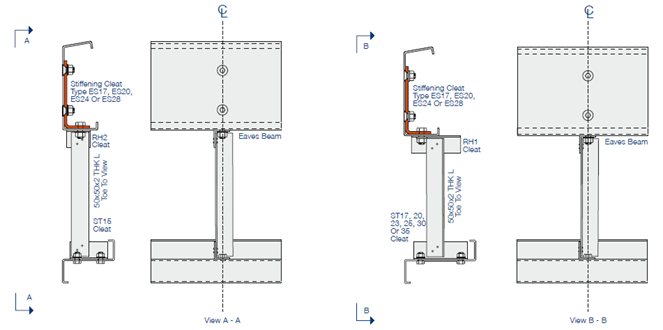 Eaves Soffit Detail
Eaves Soffit
When a situation arises that requires a flush finish to the soffit it may be necessary to omit the bolt in the bottom flange hole. The stiffening cleat provides additional strength to the eaves member when supporting vertical loads as explained above. If the soffit detail is flush with the bottom flange of the eaves beam there is no longer vertical load to support and therefore the fixing is no longer required.

Knowledge Base