Additional Details
Rafter Stays 
Our standard 50 x 50 x 2mm thick angles are ideal for use as rafter stays in most situations, and can be cut to any length up to a maximum of 3m. Standard sleeve holes should be used when fixing the stay to the purlin; however non-standard fixing holes can be added where necessary in order to achieve an optimum rafter stay angle of approximately 45o. In situations where stays are used to restrain lattice girders or deep UB sections, it may be necessary to use larger angle sections. For further information please contact our Technical Department.

 

 
Diagonal Bracing 
Diagonal braces are manufactured from seven strands of wire rope with an adjustable threaded end, and a fixed 'ball type' end swaged to the wires. For purlin systems diagonal braces are required for monopitch roof pitches, tiles roof pitches, and steep roof slopes. Where diagonal tie wires are used struts must be used in place of sag bars to resist any compressive forces, should they occur. As an alternative to the wire rope brace system, we can also offer a tubular diagonal brace system.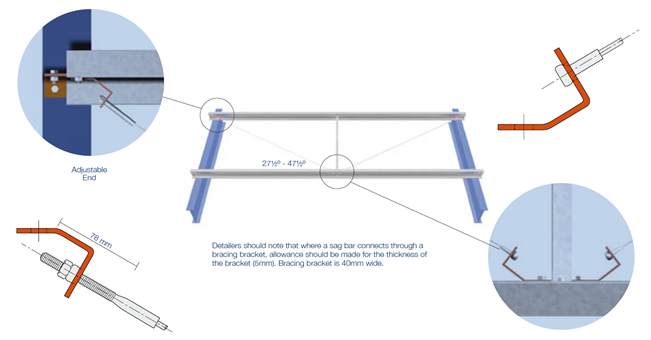 Bracing Bracket

Bracing brackets are manufactured to suit standard slopes of 37.5o. When using the 'ball type' washer as per the above detail, the angle can be decreased to a minimum of 27.5o or increased to a maximum of 47.5o.

Rigid Bracing Bracket

Where there are excessive down slope loads due to high dead loads and steep pitches, 8mm thick material is used. Also where the diagonal angles exceed or are less than the specified max/min slope, rigid bracing brackets should be used.
Cleader Rail 
Manufactured from 2.0mm pre-galvanised material in 3050mm lengths these are cut and punched to suit your requirements. Simple jointing sleeves complete with bolts are provided. All the holes are 18 diameter and are slotted for ease of erection.
Cantilever Details 
Cantilevered purlins can be used to create small canopies to gable end elevations. Where these are encountered the purlin member must be continuous over the backing span and the cantilever. This helps to minimise deflection to the recommended limits. For overhangs greater than 500mm please contact our Technical Department

Knowledge Base